About the Plan
A Harbor Plan is a state-approved document establishing community goals, standards and policies to guide public and private land use along harbors.
Allows for Chapter 91 standards to be tailored to implement a community vision for the waterfront
Relies on input from the public and from an advisory committee
Builds from previous Harbor Plans and promotes long-range waterfront planning goals
Administered at the state level by the Office of Coastal Zone Management (CZM)
Changes must be consistent with Massachusetts tidelands policy
While Gloucester's current Municipal Harbor Plan/Designated Port Area Master Plan (MHP/DPA MP) was approved on December 14, 2014 with a ten year expiration, we believe our evolving harbor economy faces continued pressures (1) to its commercial fishing operations from changes in fisheries management and global competition, and (2) to its existing and aging infrastructure from the risks associated with climate change and rising tides. We also believe that our harbor economy is poised to capitalize on new "blue economy" opportunities in fisheries, marine research and biotechnology, and ocean and seafood product development.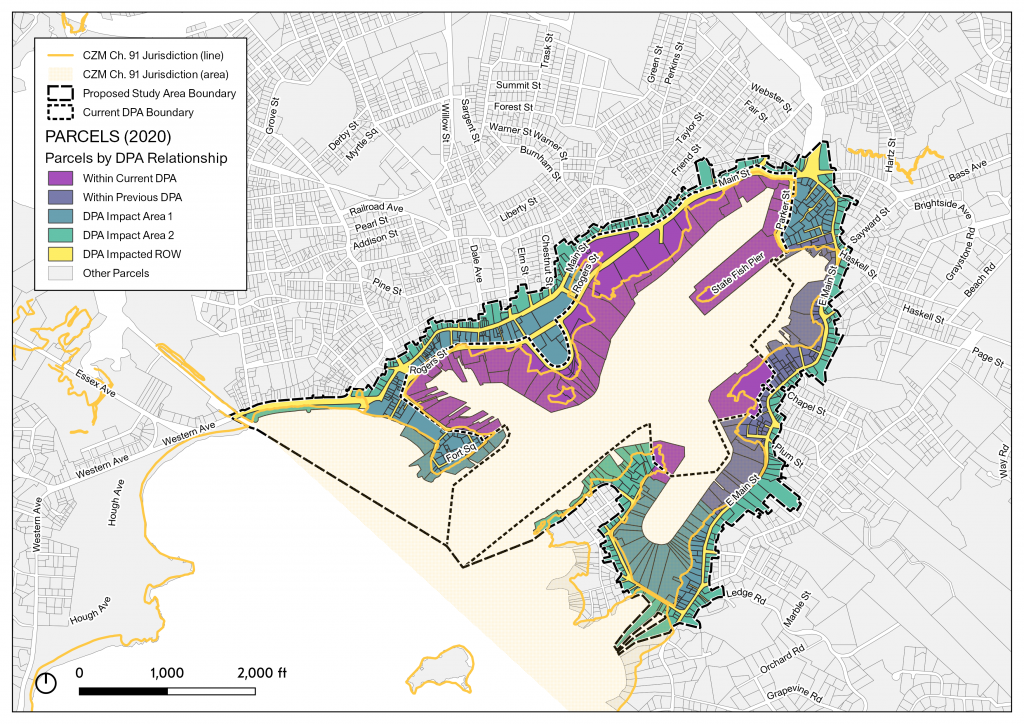 City Staff:
Mayor Greg Verga
Christopher Sicuranza – Assistant to CAO
Gregg Cademartori – Planning Director
Jill Cahill – Community Development Director
Gemma Wilkens – Planner
Thomas Ciarametaro – Harbormaster
Al Cottone – Fisheries Commission Director
Michael Hale – Director of Public Works
---
Harbor Plan Committee
Rick Noonan – Planning Board Chair
John McCarthy – City Council Liaison
Tony Gross – Waterways Board Chair
Mark Ring – Fisheries Commission Chair
Tom Balf – Economic Development & Industrial Corporation Member
Katie Kahl – Citizen / Research Representative, Extension Assistant Professor of Sustainable Fisheries & Coastal Resilience at UMass Amherst
Vito Giacalone – Citizen / Industry Representative, Fisherman, Former Policy Director for the Northeast Seafood Coalition, and President of the Gloucester Fishing Community Preservation Fund.
Tessa Browne – Citizen / Industry Representative, Co-owner Cape Ann Lobstermen Co-op
---
Consultant Team
Utile – Urban Planning and Design
Tetra Tech & Fort Point Associates, Inc. – Chapter 91, Waterfront Infrastructure and Operations Specialists
Ninigret Partners – Economic Analysis
Woods Hole Group – Resiliency Advisory
Brown Richardson + Rowe – Landscape Advisory
Baseline Assessment and Economic Strategy: Jun 2021 – Oct 2021
Evaluate the State Regulatory Environment: Aug 2021 – Dec 2021
Update the MHP and DPA Master Plan: Jan 2022 – Jan 2023
Regulations & Processes
Chapter 91, The Massachusetts Public Waterfront Act, was created in 1866 to regulate waterways.
Its purpose is to:
Preserve and protect pedestrian access to the water
Establish priority for water-dependent uses
Guarantees that private uses of tidelands and waterways serve a proper public purpose
DPAs are land and water areas set aside for working port industrial uses that need to use the water to operate. These are referred to as Water Dependent Industrial or WDI uses.
The DPA boundary is periodically reviewed by the Office of Coastal Zone Management (CZM).
Water Dependent Industrial (WDI) Uses Include:
commercial fishing
shipping
other vessel-related commercial activity
manufacturing
processing
production activities that require marine transportation or large volumes of water